Improvements over last year's festival: The weather. Not something you can control, basically, but it made all the difference. Also the crowd was lighter, and I didn't miss the Flaming Lips fans. Fantastic vibe. If anyone in the crowd was bumming me out, there was plenty of room to get away from him. Major negative: The late starts of the final sets each night. After being on my feet all day, I'm ready for bed by 11. As a result, I skipped Guided By Voices and just briefly checked in on that wigged-out Lee "Scratch" Perry. Take a look at these pictures:
This is probably my favorite picture that I took. Charles Bradley & His Extraordinaires rocked the soul and r&b as darkness fell over Robins Crossing. The set also contained a costume change and a Neil Young cover (Heart of Gold)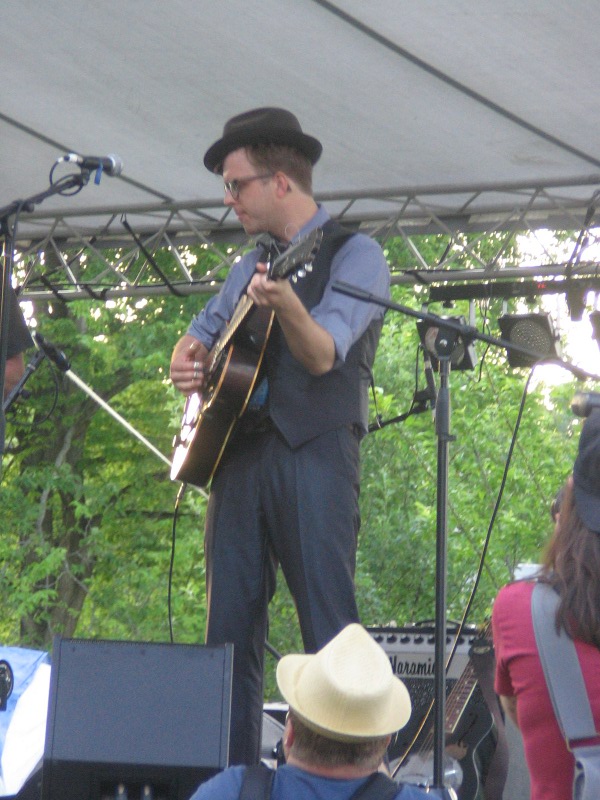 Study in contrasts. Kurt Vile continues to get much love from the hipster elite, but I'm still not digging him to the degree everyone else is. As soon as my watch said '7:45′, I left Vile and headed for the porch for Woody Pines. You might argue that Pines' take on swing, ragtime and folk may not add anything more to the pop music canon than Vile's psyched-out shoe gaze, but at least you can dance to it. And dance people did.
Rockers: Those Darlins, Wheels on Fire, Time & Temperature, and Lee Ranaldo
Time & Temperature and Those Darlins opened things up on the main stage on Friday. I'd only seen Val Glenn (Time & Temperature) doing solo performances before, so it was a treat to hear her music performed loudly and with the help of several friends. Those Darlins paid tribute to the Velvet Underground and Rockpile with covers of "Lonesome Cowboy Bill" and "Pet You and Hold You" and generally rocked-out. I should have stayed for their entire set instead of moving over to the porch for the D-Rays. Once you've heard three surf tunes, you've heard surf music.
Other notables was the loud and fast Makebelieves, with their Detroit-garage-meets-Ohio-scuzz rock. Athens' Wheels on Fire returned for the second year in a row. They sounded tighter and cleaner than last year, which I don't think is necessarily a bad thing.
Lee Ranaldo attacked his guitar with violin bow, among other signature Sonic Youth moves, His set was good, but didn't necessarily set me on fire. He covered "Thank You for Sending Me an Angel" by Talking Heads, which was a nice surprise.
Roky Erickson was a mixed-bag. Some of his stuff worked for me and some didn't, but like Lee "Scratch" Perry, I felt like I had to see at least some of his set so that I'd never be ridiculed for having passed up the opportunity.
Quieter Stuff: Jordan O' Jordan and The Old Fashioneds
My only trip to the No-Fi Cabin was for Jordan O'Jordan, who performed many of the songs I heard him do at Wholly Craft a few months back. He had also brought a play he is touring with to Nelsonville called Debris Upon the Forest Floor. Jordan is so funny, charming and self-effacing, and I love his songs. Not much love for the No-Fi cabin though, which is just too dang small. I think people feel guilty hogging space there while others are on the porch outside. So it's almost like you can come in for a few songs and then leave so someone else can have a turn, like you're attending a wake or something.
Sunday morning to early-afternoon was a great time for me at the festival. The old-timey trio The Old Fashioneds had a lovely set on the porch. A fellow leaned over to me and said, "I'd go to church every Sunday if it was three pretty girls singing sweet songs like this." I was on the move a lot on Sunday, taking in bits of Hayes Carll and Todd Snider, both seasoned, funny country-rockers.
Buzz Band of the Festival: Shovels and Rope
Sunday morning also gave me the chance to reconsider Shovels and Rope, who I'd heard from a distance the day before and had written-off as too twangy. They drew a respectable crowd early Sunday on the main stage, and almost everyone I talked to that day said, "Did you see Shovels and Rope?" My guess is if you missed them, you can expect to see them back next year.
Headliners: Iron and Wine, Andrew Bird, M. Ward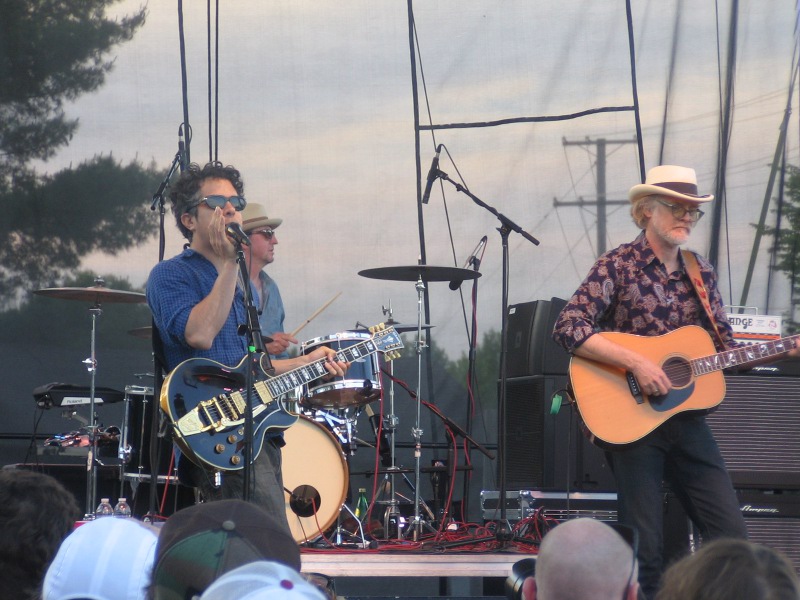 I listened to a couple of songs by Iron and Wine and then found something else to do. Not my thing. I was hoping Andrew Bird would be full-band, but at least I got to hear old songs like "Why" and "Action/Adventure". The cover of "It's Not Easy Being Green" was cute. Bird brought Mucca Puzza back on stage for two songs at the end of the set. I couldn't hear the horns from where I was standing, so I guess the experiment fell short. The cheerleaders leading the crowd through a cheer of "S-N-A-X" before "Tables and Chairs" was funny, though. And yeah…I don't need to see Mucca Puzza again. Two years is plenty, thanks.
Waiting around for M. Ward was a grueling test of endurance, but I made it. His set was good, but I think I was just too tired to fully appreciate it. He needs at least one female back-up singer on the road with him if he's gonna keep using them on the records. He played a lot of my favorites, including "Magic Trick", "Requiem", and "I Get Ideas". He also included his version of Buddy Holly's "Rave On", and he brought Dawes back on stage for a couple near the end of the set. The only one I can remember was "Roll Over, Beethoven".